How to Judge a Building – by RIBA
The RIBA Awards are the most rigorously judged prizes for architectural excellence in the UK, with the winning buildings then eligible for the prestigious RIBA Stirling Prize. On July 14th, the shortlist for the 2016 RIBA Stirling Prize for the UK's best new building was announced.
To view the buildings in the UK which have made the greatest contribution to the evolution of architecture over the past year, visit the RIBA Architecture website.
It got us thinking about how one would go about judging a building. A city is so often identified by its architectural landmarks and skyline; think of New York or Paris, oh and Manchester of course. What are the historical landmarks of the future? What buildings will stand the test of time and teach future generations something about the times we're living in now?
After a little digging, we found the criteria used by RIBA when considering the nominations. We were surprised to find that their criteria, in many ways, echoes our process when working with clients to design, manufacture and install the right solution for their blinds and awnings.
The RIBA Stirling Prize criteria includes:
Design vision
Innovation and originality
Capacity to stimulate, engage and delight occupants and visitors
Accessibility and sustainability
How fit is the building for its purpose and the level of client satisfaction?
In any project we carry out, it is our goal to encompass all these elements. Our case studies tell just some of the ways we've done this for our clients.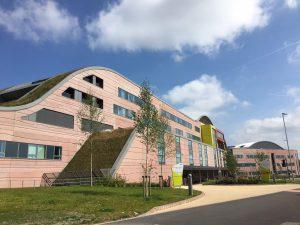 As you probably know by now, we love to shout about great work and craftsmanship, particularly in the North West. North West RIBA chose ten new buildings to receive the RIBA Award for Architecture, of which, the following went on to win National RIBA awards:
Alder Hey Children's Hospital, Liverpool by BDP
HOME, Manchester by Mecano
National Graphene Institute, Manchester by Jestico + Whiles
Private House, Cumbria by Bennetts Associates
Wirral Metropolitan College, Wirral by Glenn Howells Architects
Here is the full list of winners.
If you have a project that design vision, innovation and is fit for purpose, please get in touch with myself, Matthew, or our sales team to discuss options.