Interior Design Ideas: Dulux Colour of 2019 is released!
If you're looking for interior design ideas to spruce up your living space or do a whole home overhaul as we depart from 2018 and head into the new year, you may want to take a look at this first. Dulux have released their colour of 2019 and it's looking like a great one.
Colour of the Year
The budding interior designers or DIY-ers amongst you may be aware that Dulux's Colour of the Year for 2018 is Heart Wood. A calming colour with lilac hues which encourages tranquillity in daily environments, an essential tool for creating a welcoming atmosphere.
2019's colour, 'Spiced Honey' has been selected due to its ability to capture optimism and confidence. It is a mood-lifting ochre with the warmth of a mid-brown. Dulux claims that soft but serious colours can feel quietly supportive. Perhaps the reason why this timeless classic colour is being seen worldwide in architecture and interior design.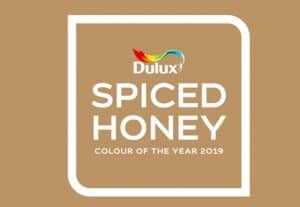 Colour Schemes for Interior Design
Often the selection of a colour scheme can be the biggest hurdle in designing or re-vamping your room. Luckily, there is help at hand to help you to decipher what best suits you favourite rooms. There's now an app which Dulux have created which helps you to visualise colours on your walls! Why not give Spiced Honey a go through your smartphone camera lens first? Download the Dulux Visualiser app and click through to see the chosen colour on the walls before you! We've just tried it in the office and Vanilla Sundae looks good for us! For Interior Design & Decorating professionals, you can step up the technicalities with the Dulux Trade Paint Expert app.
The Finishing Touches
So, you'll have chosen the perfect colour combination and furniture to match. The room you're upgrading will need some kind of sun and light protection, as well as privacy, of course. The finishing touches to your new room can make the biggest of differences.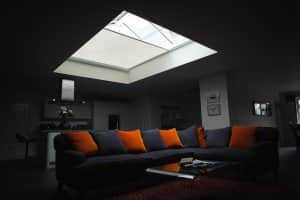 Think about it. Do you want blackout blinds in the bedroom? Something to soften the sun's glare through the glass roof or windows? These are the practicalities. But there are different colours, materials and sizes available to match the requirements of your dreamy new room. We offer bespoke solutions to all kinds of shading, noise and light reduction and privacy with our product range. With a variety of colours, we are sure we will find one to match or compliment the scheme. Let us help you to create a unique haven in your new room ready for 2019.
Looking Ahead
If you'd like to parter with us, explore our collection of shading solutions for interior and exterior installations. Take a look at an interior design success we are proud to have been involved in.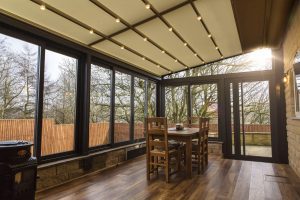 Once the interior design is complete, your next project could involve development of your outdoor areas as the spring approaches, ready for summer. How about a retractable roof pergola or automated awnings? You can bring the inside outside in summer, and as the cool nights reappear, bring the outside inside. Click here to see an external project or you can see our whole product range here.