How to do Seasons Well
Despite Britain's best efforts of unpredictable weather and multiple seasons in a day, we still manage to have four roughly defined seasons throughout the year, each with their quirks and charms. When we notice the daffodils bursting up through the ground, we know spring is coming. When we start to see our breath in the mornings, it's not long before we need to factor in time to scrape the ice from our windscreens.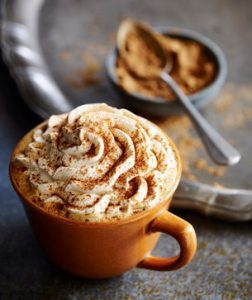 Of course there are many natural indicators of the seasons - leaves turning brown, bleating lambs, buds on the trees, a ripe apple falling on your head... but then there are the not so natural indicators. For example, when we can't find any swimwear in the shops, or when cobwebs and pumpkins suddenly appear on the shelves. When Bake Off ends and Strictly hits our screens, we know Christmas is just months away.
There are a number of cultural and commercial seasonal trends, and if we're clever, we can make the most of them. So what is the key to doing seasons well? Simply put, you have to anticipate the change in season and understand what your customers enjoy about them. The good thing is that they come around every year, so you can plan well ahead.
By now, your Christmas promotions should be well under way, but it is worth remembering that winter is a lot longer than Christmas, and January/February time can be slow months. For the hospitality and leisure sector, winter can be an obvious one. Bars and restaurants in particular should look to create cosy inviting spaces that have a warm feel, offering comfort and an escape from the brisk air. Days are very short so lighting is crucial. Your lighting should be made up of warm tones rather than harsh ones. Most restaurants and cafes have a seasonal menu, or at least, a core menu with seasonal specials. At Christmas time, when you have a large number of orders to get out, it is worth keeping the atmosphere likely and fast moving, but once January hits, you may want customers to linger and buy that next drink.
When it comes to capitalising on seasons, there are some brands who have managed this even more successfully. They don't just indicate a change in season, their products announce a new season's arrival - whether the weather is playing along or not. One such company and brand is Starbucks. The products? The humble pumpkin spice latte and their 'red cups'.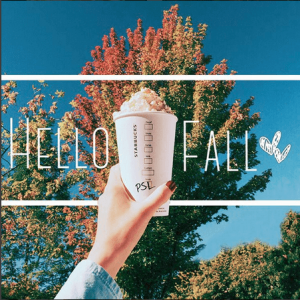 You need to know your audience so well that you can anticipate them, and Starbucks seems to have mastered that in regards to the pumpkin spice latte. The arrival of the drink is now seemingly an annual event, birthed in the US but now very much in the UK too.
"The drink is not just about creating hype; the people who buy it actually spend more at Starbucks."
Starbucks use social media to announce that 'fall' has arrived. There are early previews of the drink for card members which also helps build anticipation. They have also personalised the productk creating ways for customers to engage with the #PSL as a character. (I know, it's madness and shouldn't work, but it does). It has become their most popular seasonal drink of all time.
Tweets tagged with #psl, 'pumpkin spice' or #firstPSL have generated more than 25,000 tweets.
On Instagram, there have been more than 731,000 posts tagged with #pumpkin related to the drink and another 468,000 are labeled with #PSL. Moreover, Starbucks' pumpkin spice lattes receive 493 percent more likes per photo than shots tagged with #Starbucks.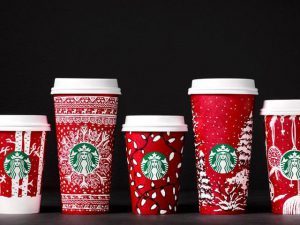 When it comes to the red cups, tit hasn't always been plain sailing. Your loyal customers can be your greatest marketeers, but upset them, and expect a storm on your hands. After the controversy of the plain red cups last year, Starbucks have gone some way to appease people by offering a range of cup designs for Christmas. This was helpful when some staff members leaked images of the cups before released.
Seasonal drinks and seasonal menus are a great option because they entice both your regular customers and pull in new ones. Have you considered how you might personalise these products - putting them in a particular setting or environment. Can you create an autumn experience, a winter experience etc. Think about how you might personalise or at least, localise your products. Could you name a seasonal drink after a loved local landmark perhaps?
The other key is consistency. Year on year, Starbucks' customers expect and wait in anticipation for the release of the sacred and short lived pumpkin spice latte, and as the PSL draws to a close, the chatter around the anticipated red cups begins. This year they even realised a green up which confused some customers and threw them off the track of the official red cups. Sites like this one have sprung up offering us helpful countdowns to the official red cup arrival.
If people can get so involved with the colour of their coffee cups, surely there is way for you to create a talking point around one of your products. Or perhaps the talking point is the space, the atmosphere or the service? Whatever it is, get feedback, figure out what it is and get people talking.
Seasons greetings.