How digital tech is enhancing leisure and hospitality experiences
The digital revolution has already transformed customer experiences - travelling tools such as Booking.com and Duolingo, real-time help from Google Maps and TripAdvisor, not to mention the almost limitless stream of content in photos, videos, listicles and blogs (like this one!). But now a new technology is finding its way into our hotels and hotspots, and it's not just changing your Facebook feed; it's changing reality itself.
Diners, drinkers, travellers and tourists have always been open to adopting new technologies and innovations, especially when they can save them time or money; you only have to look at the rise of Uber and AirBnB to see how quickly things can change. Now the latest piece of future-tech is eyeing up your next city break: Augmented Reality (AR) and Virtual Reality (VR).
More and more, customers and visitors want to discover the places they go not just in the flesh, but in the digital realm as well. They want to see photos of the beauty spots, read other people's reviews of the restaurant, or check out the location of their hotel on Google Streetview. The next logical step for venues is to bring that technology into the real-time experience.
What's the difference between Augmented and Virtual?
Whilst these two terms are often confused or mentioned interchangeably, they provide two very specific and very different experiences. The clever minds over at Intel state "the border between the virtual and real world continues to breakdown", bringing us experiences that previously only existed in science fiction. Here's how it works.
1. Virtual Reality
Virtual Reality is the creation of a digital environment through use of Computer Generated Imagery (CGI), location photography or now even 360 degree video. It is defined by placing the user completely inside an alternate location, a fully immersive experience delivered through visual headsets that block out the real world.
Examples of this technology can be seen throughout the travel industry, notably with Thomas Cook's virtual city tours and Best Western hotels who have created VR tours for over 2,000 of their properties.
2. Augmented Reality
The secret of Augmented Reality lies in its ability to interact with the real world - indeed, it has to interact with the real world. Whist Virtual Reality seeks to remove the user from their surroundings, Augmented Reality provides new ways to interact with those surroundings via the use of smartphones and tablets. Utilising the live-view camera function on smart devices, Augmented Reality displays digital content connected to the physical objects and location of the user's environment.
The benefits of this technology can be seen in a huge range of applications, not least The Jurassic Park AR experience at Universal Studios in Florida, or the wildly (and bafflingly!) successful Pokemon Go game that had players all over the world wandering into other people's gardens and living rooms to 'catch' virtual critters.
Enhancing your customer experience with AR and VR
In the ultra-competitive world of leisure and hospitality, creating fun and unique experiences is a great way of attracting new business and nurturing loyal fans. Given the ubiquitous nature of smartphones and digital life to the younger generations, now is the ideal time to introduce futuristic tech to your business.
For tourist and visitor attractions, Augmented Reality allows venues to create new ways of engaging with them; imagine being able to see a prehistoric ritual taking place at Stone Henge, watching hundreds of Minions run around the grounds of Disney World, or even give football fans an insight into the history of their club, like our AR-enhanced R101: Eliminate roller blinds at Liverpool FC's Anfield Stadium Tour.
If you own a hotel, why not allow potential visitors to tour the rooms and facilities in 360 video Virtual Reality. Or once they arrive, combine tourist maps on the walls with Augmented Reality image-recognition and show guests videos, photos and information about all the attractions they can enjoy.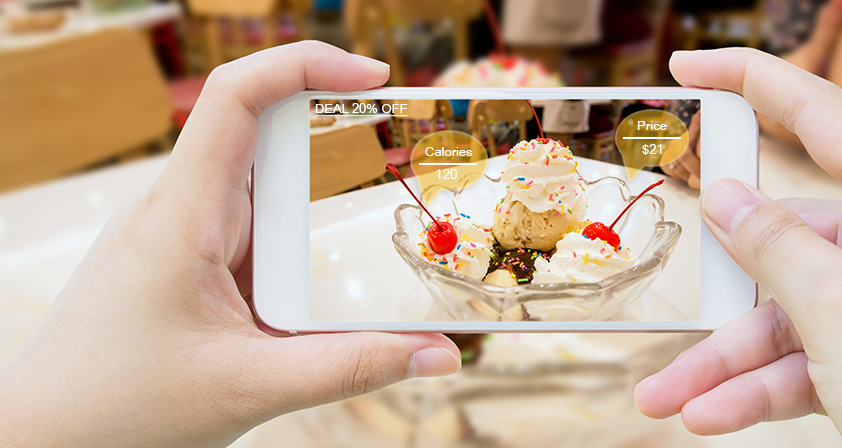 Finally, when creating the menu for your new restaurant, use tech like the guys over at kabaq.io to give diners an instant look at the finished dishes, photo-realistic and life-size on the plate in front of them. Just add a smart tablet…
The possibilities are only limited by our imaginations, and the opportunities that Augmented and Virtual Reality tech can bring to customer experiences are going to be essential in capturing and retaining the next generation of travellers, tourists and diners. But do beware those wandering critters!
Make your restaurant, bar, hotel or venue a truly welcoming and comfortable experience with our bespoke leisure and hospitality solutions. Download the brochure here, feel free to explore the rest of our website, or get in touch with us directly.