Lifetime Achievement Award for Nigel Sharrock
At the recent 2016 BBSA Presidents' Ball, Nigel Sharrock, Managing Director of James Robertshaw, was presented with the BBSA Lifetime Achievement Award in recognition of his significant contribution to the BBSA and the wider industry.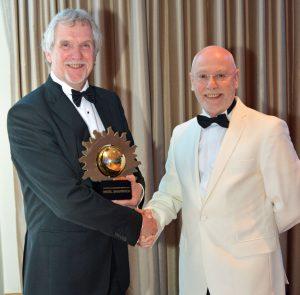 Steve Birtles of Louvolite provided an amusing and thoughtful insight into Nigel's career and contribution before presenting Nigel with his well-earned accolade.
Nigel joined the Managing Committee of the BBSA in 1975 and has therefore completed over 40 years of voluntary service. He is in a very small group of ex-Presidents of the Association who have held the post twice, in Nigel's case from 1991/92 and again in 1997. He has also just completed another year as a Vice President and Director of the BBSA.
In addition, over the last four decades Nigel has held many other positions of responsibility including Chairman and Secretary of the Northern Region and also Chairman of the Exhibition Working Group delivering the last two BBSA exhibitions which have seen record attendance from exhibitors and visitors.
Steve Birtles said; "It is an honor to present Nigel with the BBSA Lifetime Achievement Award. He has selflessly given so much to the BBSA over so many years and I know his BBSA colleagues often seek his wise counsel. He is still very actively involved in the Association and I for one hope that will continue for many years to come."
In accepting his award Nigel Sharrock commented; "I am truly honored to receive this accolade which is so unexpected. Like so many things in life, you only get out what you put in and I have learnt so much and made so many friends and contacts during my time on the BBSA. It's been a pleasure to be involved with such a great Association."