James Robertshaw at Bolton Food & Drink Festival
The 11th Bolton Food and Drink Festival was a huge success with record-breaking numbers descending on the town centre. There were demos from a number of top TV chefs including John Torode, Masterchef winner Simon Wood and festival favourite, James Martin.
This year, wine tasting master classes were also added to the programme, run by none other than Oz Clarke and Kate Goodman. For the children there were new family-focused areas including a weird science zone and a beach attraction including donkey rides!
"It has been another wonderful weekend for Bolton. The Food and Drink Festival is a great event showcasing the best of Bolton to huge crowds." Cliff Morris, Bolton Council Leader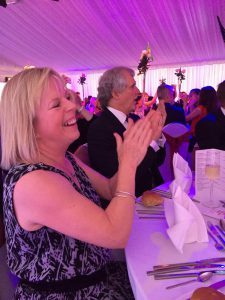 On Friday, two of our directors, Lesley and Nigel enjoyed attending the festival's gala dinner for an evening of fine dining, set in the main Celebrity Chef marquee on Victoria Square. Guests enjoyed a sumptuous five-course meal, specially created by some of the leading chefs, celebrating cuisine from around the world. Lesley's highlight of the meal was the fish course, prepared by 2 Michelin starred chef Michael Caines. Earlier in the day, Nigel and Lesley had attended a VIP chef demo where Michael Caines demonstrated the course they would be eating that evening. We'll be expecting corden bleu staff lunches any day now! Money raised by the event went to the Bolton Dementia Action Alliance. It was a wonderful evening with a table of fantastic people we hope to connect with again.
For the festival itself, over 180 stalls spread right across the town centre, offering a wide range of choices for breakfast, lunch, dinner and tasty treats. On Market Street there were art and craft stalls offering unique gifts and showcasing work by local artists.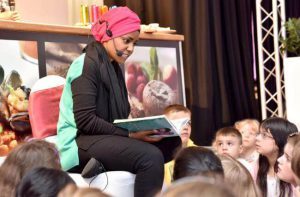 The whole family was catered for this weekend, with a range of planned activities and ticketed events. One particular highlight was the Sunday afternoon tea picnic with the added bonus of a live demo from Great British Bake Off 2015 winner, Nadiya Hussain. Friendly, warm and open, Nadiya ran family-themes sessions, dished out many cookery tips, chatted to fans and was generally a joy to be around. Whilst there on Sunday we also took the opportunity to check out our recent work at The Market Place Bolton Café Boulevard.
Cafe Boulevard is on the east corridor of the Market Place. Owners Moorgarth, had a vision to create a quick bites, Mediterranean-style area, with WI-FI access in a quiet area off the main Market Place hub. The entire Boulevard has been created by Bolton companies working collaboratively. There were some interesting challenges with the scheme, predominantly around the Grade 2 listed status of the building, which required us to find bespoke solutions regarding fixings and flame retardant material, with all signage completed in-house. There is more to do, as we've been asked to look at shade sails in the vast roof area. Once complete, we can do a full case study of the project.
The festival was a key date in Bolton's calendar, so we worked close to the wire to ensure that the boulevard's new French awnings were installed with precision and expertise in time for the event. It was a privilege to work with Moorgarth, as well as the designers, Portfolio, and Wren Architecture. I'm sure you'll agree the end result creates a wonderful sense of a Parisian-style café chic.
If you're working with a listed building and need advice about exterior awnings or interior blinds, please get in touch to speak to one of our specialists.