Employee celebrates 30 years of service!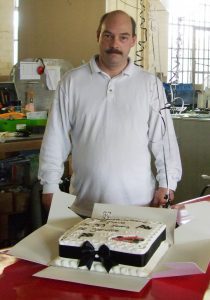 On the 16th July 2009 our 2nd longest serving team member, after Nigel Sharrock, Dave Mayoh, celebrated 30 years service in the employment of James Robertshaw! An integral member of the team, Dave is responsible for the manufacture of all PVC cover and zip products. Ranging from awning & canopy covers, Fabric teeth zip blinds to PVC internal blind products, Dave's skills and adaptability have made him a key member of the JR production team for many years.
Since James Robertshaw became established in 1860, the culture of the business was not only to provide 'superior quality, superior service', but to also create a friendly, ethical, yet professional reputation within the industry.
Nigel Sharrock comments, 'I feel it is important to have skilled and responsive, team members who care not only about their responsibilities in the manufacture of the product, but also about the company's reputation. Dave has exemplified this attitude over the last 30 years. We like to create an environment where the team enjoy coming into work, and are proud of all the products they manufacture. We believe in loyalty and don't employ people on short term contracts and encourage long standing partnerships. Thank you Dave!'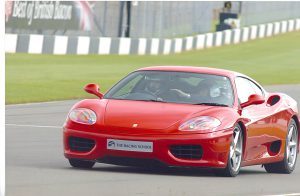 The James Robertshaw directors decided to try and make Dave's 30th anniversary a special day for him to remember. As a keen motor enthusiast, it was arranged for Dave to spend a day out at the famous Donnington motor circuit, racing a Ferrari as well as a single seater sports car, as well as visiting their museum.
Dave comments, 'I can't believe it has been 30 years since I began working for James Robertshaw. I can honestly say I have enjoyed my time working with friends and colleagues over the years and have some fantastic memories. I would like to thank the directors for my Ferrari Experience, which was an incredible day out and something I have always wanted to do. Roll on the next 30 years'!